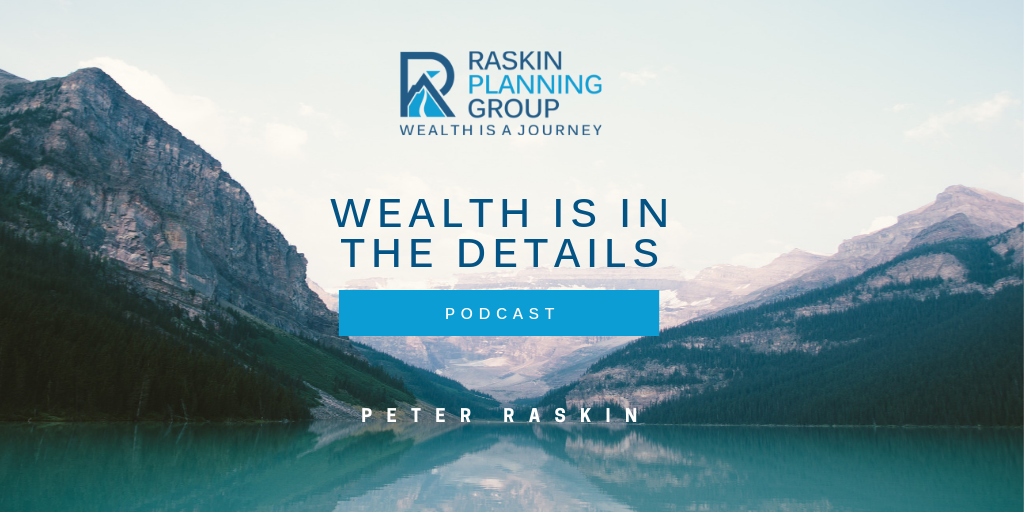 Episode 1 – Meet Peter Raskin of Raskin Planning Group
Podcast: Play in new window | Download | Embed
Subscribe: Google Podcasts | Spotify | Stitcher | Email | TuneIn | RSS | More
Peter Raskin has served the Boston area as a financial advisor for over 30 years. He's the lead financial planner at Raskin Planning Group, which he founded with the mission to help individuals and families with their comprehensive financial needs.
In this inaugural episode of the Wealth is in the Details podcast, get to know more about Peter, who he is, and why he's passionate about what he does. Peter shares:
Why the Raskin Planning Group works with the most dedicated clients

Who makes up their team and what each of their specialties are

Why Peter chooses to be active in his community

Peter's personal financial philosophy and why he thinks focusing on the simple things in life is important

Peter's take on winning the lottery, and why that might not be what he needs to live a happy life
Tune in now to get to know all about Peter Raskin, the founder and lead financial advisor at Raskin Planning Group!
Resources: Raskin Planning Group
Disclosure: The is not intended to be a substitute for professional investing advice always seek the advice of your financial adviser or other qualified financial service provider with any questions you may have regarding your investment planning.
Peter Raskin is a registered representative of Lincoln Financial Advisors.
Securities offered through Lincoln Financial Advisors Corp., a broker/dealer. Member SIPC. Investment advisory services offered through Sagemark Consulting, a division of Lincoln Financial Advisors, a registered investment advisor. Insurance offered through Lincoln affiliates and other fine companies. Raskin Planning Group is not an affiliate of Lincoln Financial Advisors.
Lincoln Financial Advisors Corp. and its representatives do not provide legal or tax advice. You may want to consult a legal or tax advisor regarding any legal or tax information as it relates to your personal circumstances
CRN-3928416-112221