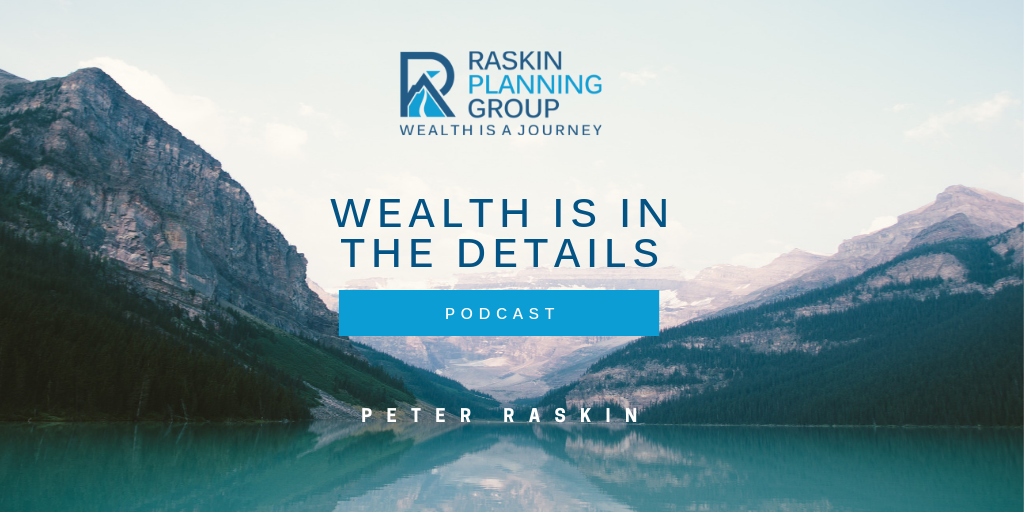 Episode 34 – Securing Your Future With the SECURE Act
Podcast: Play in new window | Download | Embed
Subscribe: Google Podcasts | Spotify | Stitcher | Email | TuneIn | RSS | More
When was the last time you reviewed your retirement plan? Now might be the time—the introduction of the new SECURE Act may impact your plan for the future.
In this episode of the Wealth Is In The Details Podcast, Peter Raskin breaks down the SECURE Act and how it may impact your retirement planning. 
In this episode, you will learn:
How IRA contributions and distributions are affected by the act

How beneficiaries may be impacted by these changes

The importance of planning into the future

And more!
Listen in now to learn about the impact the SECURE Act might have on you and your retirement plan.
Raskin Planning ❘ Email ❘ (617) 728-7433
CRN-3051538-042120
Disclosure: The is not intended to be a substitute for professional investing advice always seek the advice of your financial adviser or other qualified financial service provider with any questions you may have regarding your investment planning.
Peter Raskin is a registered representative of Lincoln Financial Advisors.
Securities offered through Lincoln Financial Advisors Corp., a broker/dealer. Member SIPC. Investment advisory services offered through Sagemark Consulting, a division of Lincoln Financial Advisors, a registered investment advisor. Insurance offered through Lincoln affiliates and other fine companies. Raskin Planning Group is not an affiliate of Lincoln Financial Advisors.
Lincoln Financial Advisors Corp. and its representatives do not provide legal or tax advice. You may want to consult a legal or tax advisor regarding any legal or tax information as it relates to your personal circumstances.