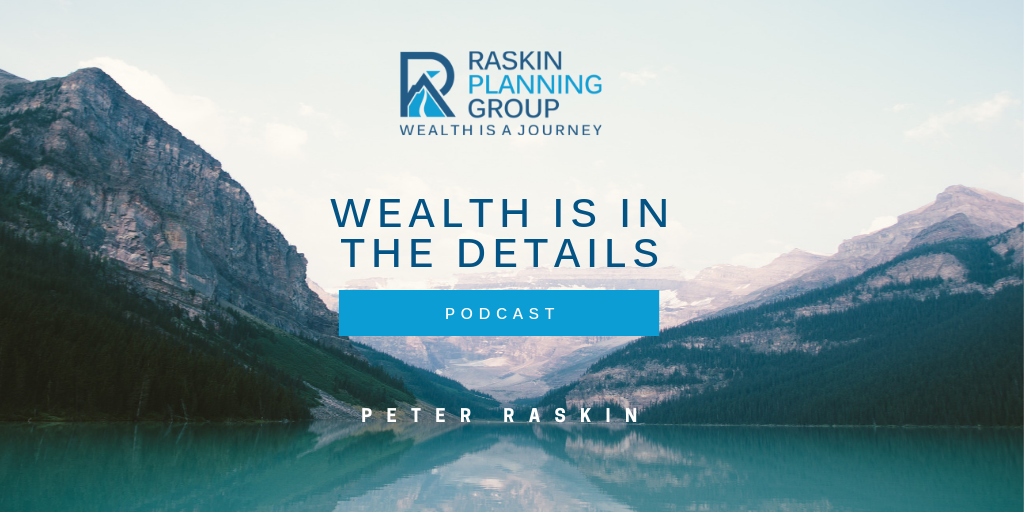 Episode 3: It's All About the Relationships – Part 2
Podcast: Play in new window | Download | Embed
Subscribe: Google Podcasts | Spotify | Stitcher | Email | TuneIn | RSS | More
The initial analysis of a financial planning meeting is much like opening the hood of a car — you open it up to see what you're working with, and you move forward from there.
In this second part of his planning process mini-series, Peter explains the team-based approach used by Raskin Planning Group — an approach where clients work with each and every team member thanks to their unique specializations.
In this episode, you'll learn:
The inner workings of the Raskin Planning Group team

What a typical discovery meeting looks like

How the Raskin Planning Group makes sure everyone is on the same page

How the team ensures that the moves their clients make supports their personal financial goals

And more!
Check out this episode of the Wealth is in the Details podcast to hear all about the experience of being a client at Raskin Planning Group!
Resources:  Raskin Planning Group
Disclosure: The is not intended to be a substitute for professional investing advice always seek the advice of your financial adviser or other qualified financial service provider with any questions you may have regarding your investment planning.
Peter Raskin is a registered representative of Lincoln Financial Advisors.
Securities offered through Lincoln Financial Advisors Corp., a broker/dealer. Member SIPC. Investment advisory services offered through Sagemark Consulting, a division of Lincoln Financial Advisors, a registered investment advisor. Insurance offered through Lincoln affiliates and other fine companies. Raskin Planning Group is not an affiliate of Lincoln Financial Advisors.
Lincoln Financial Advisors Corp. and its representatives do not provide legal or tax advice. You may want to consult a legal or tax advisor regarding any legal or tax information as it relates to your personal circumstances
CRN: 2335000-120318