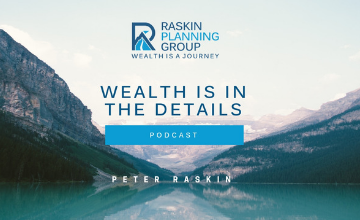 Your Frequently Asked Questions Answered, Part 1 (Ep.83)
Podcast: Play in new window | Download | Embed
Subscribe: Google Podcasts | Spotify | Stitcher | Email | TuneIn | RSS | More
Time and time again, you might have thought about questions you want answered about your financial plan, changes to your portfolio and so much more.
In this episode, Peter Raskin answers some of the frequently asked questions he gets asked as a financial advisor.
Peter discusses:
If you should make changes to your portfolio given the changes in the market

How inflation affects your financial plan and why it's important to regularly update your plan to reflect inflation

Whether or not bonds are a safe investment

How to decide what to do with money on the sidelines to make it work for your individual goals

And more
Connect with Peter: 
Schedule Time with Peter:
Disclosure: This is not intended to be a substitute for professional investment advice. Always seek the advice of your financial adviser or other qualified financial service providers with any questions you may have regarding your investment planning.
Peter Raskin is a registered representative of Lincoln Financial Advisors.
Securities are offered through Lincoln Financial Advisors Corp., a broker/dealer. Member SIPC. Investment advisory services are offered through Sagemark Consulting, a division of Lincoln Financial Advisors, a registered investment advisor. Insurance is offered through Lincoln affiliates and other fine companies. Raskin Planning Group is a marketing name for registered representatives  of Lincoln Financial Advisors.
Lincoln Financial Advisors Corp. and its representatives do not provide legal or tax advice. You may want to consult a legal or tax advisor regarding any legal or tax information as it relates to your personal circumstances.
CRN-4822767-062822