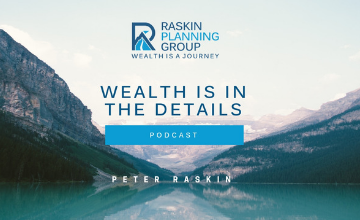 62. Your Financial Plan And Your Nonprofit Involvement Aren't So Different with Charles Gagnon
62. Your Financial Plan And Your Nonprofit Involvement Aren't So Different with Charles Gagnon
Podcast: Play in new window | Download | Embed
Subscribe: Google Podcasts | Spotify | Stitcher | Email | TuneIn | RSS | More
Your financial plan is only as good as the different components it is made up of, similar to the way a nonprofit is only as good as the organizational structure.
In this episode, Peter Raskin is joined by Charles Gagnon, CEO of Volunteers of America Massachusetts. Charles leads the strategic vision and mission to build and benefit the community from the ground up, which he says is similar to building a holistic financial plan. Discover the importance of starting from the bottom to complete the plan you envision, for you and those you love.
Charles discusses:
The importance of conscientious budgeting for nonprofits

The importance of being smart and strategic when investing

The role of risk management in your financial planning

How each role plays an integral part in your financial plan

And more!
Resources
Connect with Peter:
Connect with Charles:
CRN-3655957-070121
Disclosure: This is not intended to be a substitute for professional investment advice. Always seek the advice of your financial adviser or other qualified financial service providers with any questions you may have regarding your investment planning.
Peter Raskin is a registered representative of Lincoln Financial Advisors.
Securities offered through Lincoln Financial Advisors Corp., a broker/dealer. Member SIPC. Investment advisory services offered through Sagemark Consulting, a division of Lincoln Financial Advisors, a registered investment advisor. Insurance offered through Lincoln affiliates and other fine companies. Raskin Planning Group is not an affiliate of Lincoln Financial Advisors.
Lincoln Financial Advisors Corp. and its representatives do not provide legal or tax advice. You may want to consult a legal or tax advisor regarding any legal or tax information as it relates to your personal circumstances.