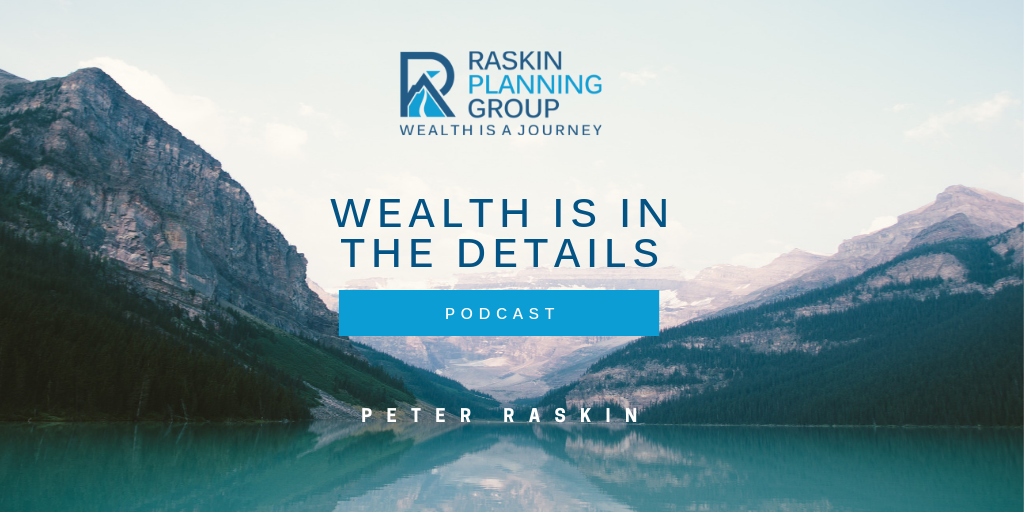 Episode 4 – Tax Planning as a Year-Round Process – Part 1
Episode 4 – Tax Planning as a Year-Round Process – Part 1
Podcast: Play in new window | Download | Embed
Subscribe: Google Podcasts | Spotify | Stitcher | Email | TuneIn | RSS | More
When many Americans think about tax planning, they think of tax season – a short-term process which lasts a couple months at most. However, in this episode of the Wealth is in the Details podcast, Peter Raskin explains how tax planning is really a year-round process.
In this episode, you'll learn about:
The difference between tax evasion and tax avoidance, as told by Supreme Court Justice Louis Brandeis

Peter's explanation in layman's terms of marginal tax brackets

A couple advantages of owning common stocks

The importance of understanding the type of investment you are making and the amount of taxes you will owe on each

The importance of tax bracket planning during retirement

And more!
Tune in now to learn all about tax planning as a year-round process!
Resources:  Raskin Planning Group
Disclosure: The is not intended to be a substitute for professional investing advice always seek the advice of your financial adviser or other qualified financial service provider with any questions you may have regarding your investment planning.
Peter Raskin is a registered representative of Lincoln Financial Advisors.
Securities offered through Lincoln Financial Advisors Corp., a broker/dealer. Member SIPC. Investment advisory services offered through Sagemark Consulting, a division of Lincoln Financial Advisors, a registered investment advisor. Insurance offered through Lincoln affiliates and other fine companies. Raskin Planning Group is not an affiliate of Lincoln Financial Advisors.
Lincoln Financial Advisors Corp. and its representatives do not provide legal or tax advice. You may want to consult a legal or tax advisor regarding any legal or tax information as it relates to your personal circumstances
CRN-3928412-112221