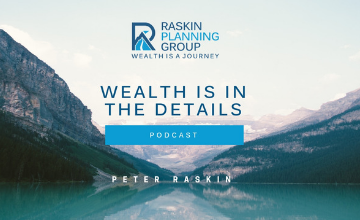 Episode 44 – Election Season: The Correlation Between Markets and Government Policies
Episode 44 – Election Season: The Correlation Between Markets and Government Policies
Podcast: Play in new window | Download | Embed
Subscribe: Google Podcasts | Spotify | Stitcher | Email | TuneIn | RSS | More
With election season upon us, many Americans are anticipating what's to come from the 2020 presidential election — and what the election and its resulting presidency could mean for the markets.
In this episode, join Peter Raskin as he debunks the common belief that markets are influenced by politicians and their policies. Peter breaks down ten reasons why there isn't any correlation between markets and politics and shares what you should keep in mind when managing your investments through this election. 
 In this episode, you will learn:
Why neither party can claim superior economic market performance


Why you shouldn't confuse partisan politics with market analysis

Reasons why investors are better off staying fully invested

Why predictions are irrelevant tools for politics and the market 

And more!
Tune in now as Peter highlights the importance of planning your financial future no matter who the president is or which party controls Congress! 
Resources:   Raskin Planning Group  | Resources | Peter Raskin  | 10 Truths About Presidential Elections and the Stock Market
CRN-3290987-101920
Disclosure: This is not intended to be a substitute for professional investment advice. Always seek the advice of your financial adviser or other qualified financial service providers with any questions you may have regarding your investment planning.
Peter Raskin is a registered representative of Lincoln Financial Advisors.
Securities offered through Lincoln Financial Advisors Corp., a broker/dealer. Member SIPC. Investment advisory services offered through Sagemark Consulting, a division of Lincoln Financial Advisors, a registered investment advisor. Insurance offered through Lincoln affiliates and other fine companies. Raskin Planning Group is not an affiliate of Lincoln Financial Advisors.
Lincoln Financial Advisors Corp. and its representatives do not provide legal or tax advice. You may want to consult a legal or tax advisor regarding any legal or tax information as it relates to your personal circumstances.